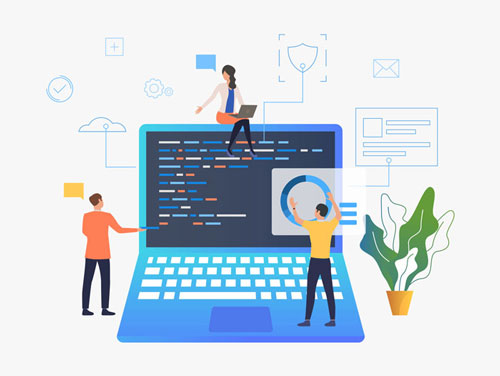 Amtech IT Solutions About Us
Amtech IT Solutions is a full cycle Website Design, Development and Software Development Company headquartered in India with office in North America. We are a team of professionals with experience and expertise, we love solving design, technology and marketing challenges that help propel our client's success to their next level. We maintain value for business through our team of professionals and by using the best innovative latest market technologies. We use technologies that shorten the time to market and reduce the cost of software development. We treat every project with the sense of care and responsibility.
"WE BELIEVE OUR BUSINESS IS TO IMPROVE YOURS"
WEB DESIGN AND DEVELOPMENT
From small personal sites to enterprise applications, we build websites that work anywhere, on any device, using reliable, powerful frameworks.
With a mobile application, your products and services are always available for those who use smartphones, tablets and other mobile devices.
Our Ecommerce web developers and creative team have wide experience in building any kind of feature-rich Ecommerce and retail solutions. Be it website, app or platform.
DOCUMENT MANAGEMENT:
WEBCENTER CONTENT
End-to-End Document Management with integration with E-Business Suite / Fusion attachments.
SEO AND GOOGLE ANALYTICS SERVICE
We offers SEO services that drive sales — not just traffic. Whether you're building a new website or optimizing your existing site.
Our User Interface and User Experience consulting services help you deliver both an excellent experience to your customers and a competitive product.
A web hosting service is a type of Internet hosting service that allows individuals and organizations to make their website accessible via the World Wide Web.
Graphic design is the process of visual communication and problem-solving through the use of typography, photography, and illustration.
Combining deep research and modern design to create logos that capture attention and define brands.
Responsive web design enables your website layout to adapt to even the largest or smallest screens.
Web design refers to both the aesthetic portion of the website and its usability. Web Developers on the other hand, take a website design and actually make a functioning website from it.
WEBSITE MAINTENANCE
AND SUPPORT
Website maintenance is the act of regularly checking your website for issues and mistakes and keeping it updated and relevant.
Testimonials
"Exceptional Software Development and Support. Wonderful Achievement. I can't express the comfort zone I am in working with them. Timely, Efficient and use Best Practices in their Work. A trusted partner and always willing to help. Thank You Amtech IT Solutions."
Reed Sunaidi
"Excellent Company! I will definitely work with them again. Good communication, good work, on time!"
The Wood Square
" Great Team to work and express your imagination on the web designing to make it transforming. "
Savvy Dimensions
"A robust congratulations to the team at Amtech IT Solutions for a job well done. I am really impressed by the quality of services I received from Amtech IT Solutions. We thank Amtech IT Solutions for the wonderful job in helping us develop our program."
Ansad
"We thank AMTECH Solutions for the wonderful job in helping us develop our program (School Management System). It's been a professional, excellent experience with AMTECH. Thanks to them, we were able to achieve our goal on time, and we look forward to continue working with AMTECH in the future."
CrosPlat Technologies
INDIA Address
Mehdipatnam, Telangana, India
Email
syed@amtechitsolutions.com
Website
www.amtechitsolutions.com
North America Address
7 Crescent Place, Toronto, Ontario, Canada M4C5L7
Email
haroon@amtechitsolutions.com
Website
www.amtechitsolutions.com